Service connection within

4

- 6 weeks

99

% SLA availability

10

years of experience

Cost Request
This service is for you if:
You want to build a response centre for cyber security threats operating 24h a day.
It's important to you that your IT infrastructure protection is in line with the best practice.
IB ICL SOC Threat Response Centre's team of experts monitors, analyses, and investigates cyber incidents 24/7, including weekends and holidays.
ICL SOC's highly qualified experts have successful experience of handling cyber security threats on the international and Russian market. The competencies of our experts have been confirmed by international information security certificates.
We will help you develop inter-functional processes by "befriending" the Information Security and IT Departments.
We guarantee flexibility in the selection of the service level for the given job.
ICL SOC offers 3 service levels:
Silver:
Automatic detection of information security events. Event monitoring and processing by the ICL SOC Team 24/7/365. Reporting the identified information security incidents. Providing recommendations for high-priority incidents. Continuous work on decreasing false positives.
Gold (Silver+):
Advanced analysis including recommendations for all information security incidents. Active responses through coordination of actions taken by IT teams included in the incident until its resolution. Development of a strategy for mitigating and recovery from high-priority information security incidents. A set of correlation rules which may be replenished.
Platinum (Gold+):
Proactive threat search (Threat Hunting). Development of specialised response scenarios at the client's request.
As part of cyber incident monitoring and response, SOC Analytics Team uses information protection tools such as SIEM, EDR, Sandboxes, Vulnerability Management (VM), as well as Threat Intelligence Feed (TI).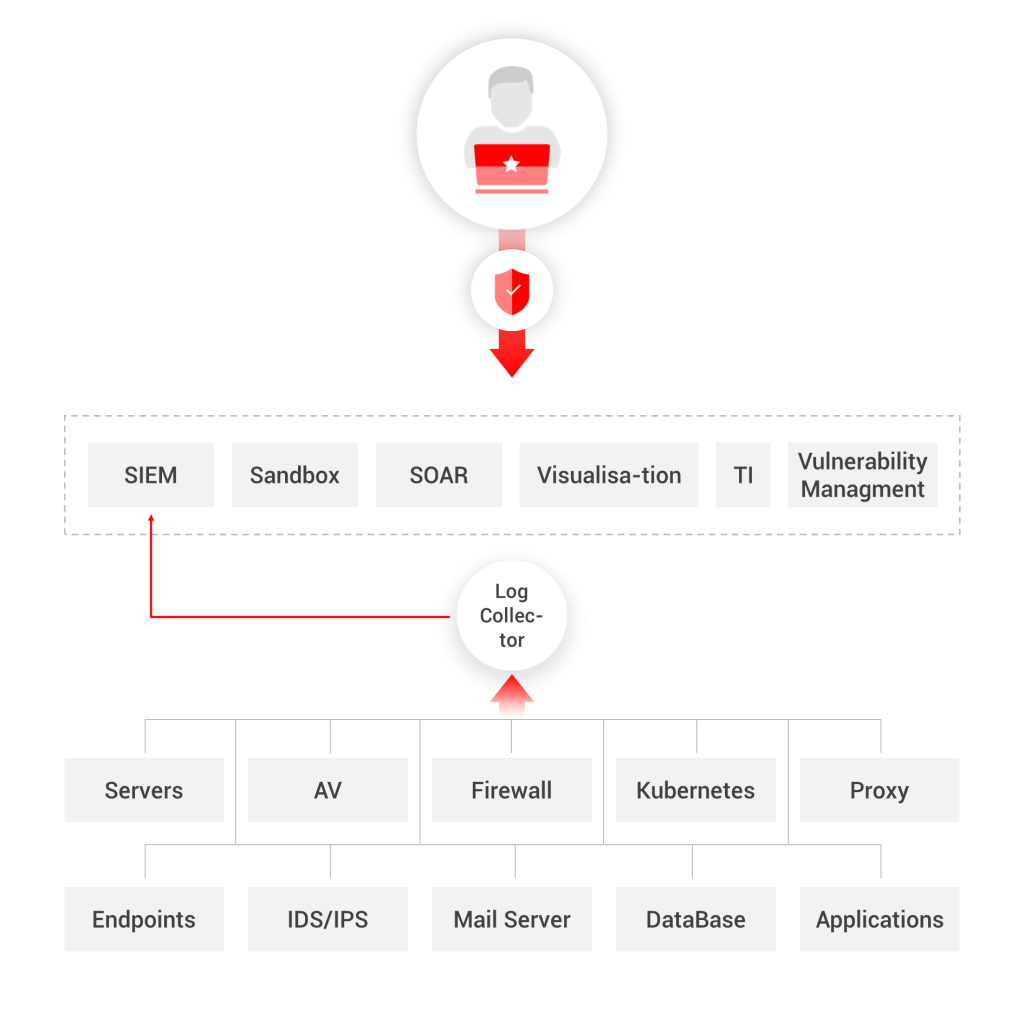 Custom approach

Development of response scenario and correlation rules in compliance with your requirements.

Highly competent information security analysts

Highly Considerable experience on the Russian and international level.

24/7 protection

Cyber incident analysis and investigation 24/7, including weekends and holidays.

Callback
Question to the expert
Submit information about yourself and your company, ask a question and the expert will answer you asap
Submit information about yourself and your company, ask a question and the expert will answer you asap
Contact us
Leave information about yourself and your company to get a detailed presentation.
Voice assistant
Test out our voice assistant! After filling in the data, the voice assistant will call you at the specified number, register your voice message, convert it into text and send it to your email
Thank you for contacting!
We will contact you
Ok
Voice assistant
Test out our voice assistant! After filling in the data, the voice assistant will call you at the specified number, register your voice message, convert it into text and send it to your email