News
1 March 2016
News
Готово!
Скоро материал придет на указанную электронную почту. Также подписывайте на нас в Facebook
Ok
Planning a data storage system for openstack platform
Problem urgency
Today, the cost of data storage systems is an essential part of budgets of many major Russian companies. Despite the slowly declining cost of data storage, its volume is growing rapidly. As for Oracle's projections, by 2020 IT departments will have to manage infrastructures that have 50 times more data, 75 times more files with only 1.5 times more people.
Achieving such high results is impossible without fundamental changes in IT, such as automation, self-service and cloud services. One of the most popular and rapidly growing platforms used to create your own cloud infrastructure is OpenStack platform that implements the concept of a software-managed data center. This solution allows you to:
provide virtual resources on-demand via a self-service portal;
scale applications as the load increases;
increase the speed of deployment of ultimate applications;
provide users with a more convenient way of storing data (corporate DropBox);
ultimately, significantly reduce IT costs.
The process of designing the infrastructure of a corporate/public cloud based on OpenStack platform is always accompanied by the question — what kind of data storage system to use? We will tell you about different solutions used to create data storage systems that Services experts use in their practice.
Data storage system in OpenStack
Data storage is used in many components of OpenStack:
OpenStack Glance — VM image storage
OpenStack Nova — VM ephemeral disks
OpenStack Cinder — permanent disks
OpenStack Swift — object storage
OpenStack Manila — shared file system
Any guest operating system uses a block device to place file systems. «Ephemeral» and permanent data storages stand out.
«Ephemeral» discs exist as long as there is a VM (if it is removed an ephemeral disk is also removed.) Those are usually root disks with an operating system, swap disks. When deploying only OpenStack Nova, users do not have access to any form of permanent storage by default. From the point of view of a user «ephemeral» disks connected to VM disappear when a virtual machine is removed. Permanent block devices are not removed together with a virtual server and can be connected to another server if necessary. Of course, you can create and remove such devices, as well as manage connections. The table below contains a comparative analysis of the data storage components available in OpenStack.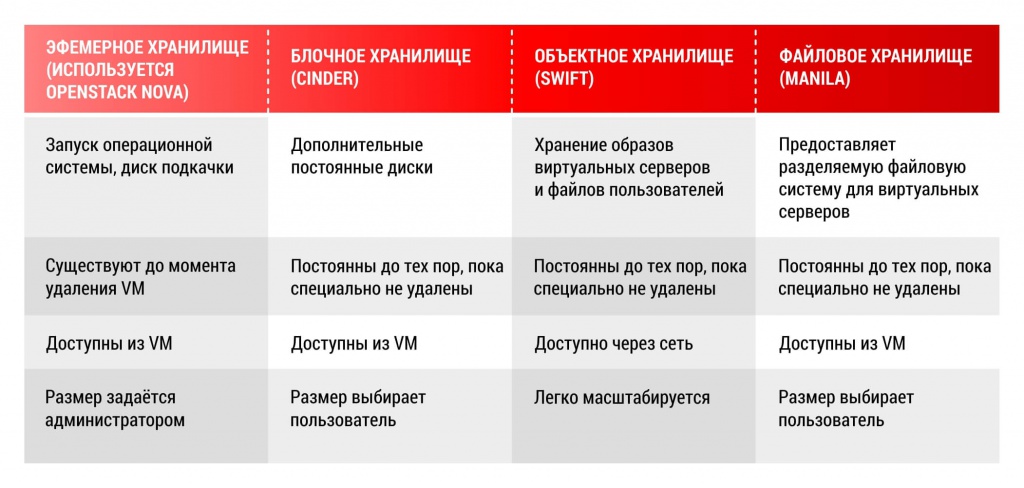 Possible scenarios
The chart below displays the results of a survey of OpenStack users (October 2015): what low-level implementations do they use to store disks permanently.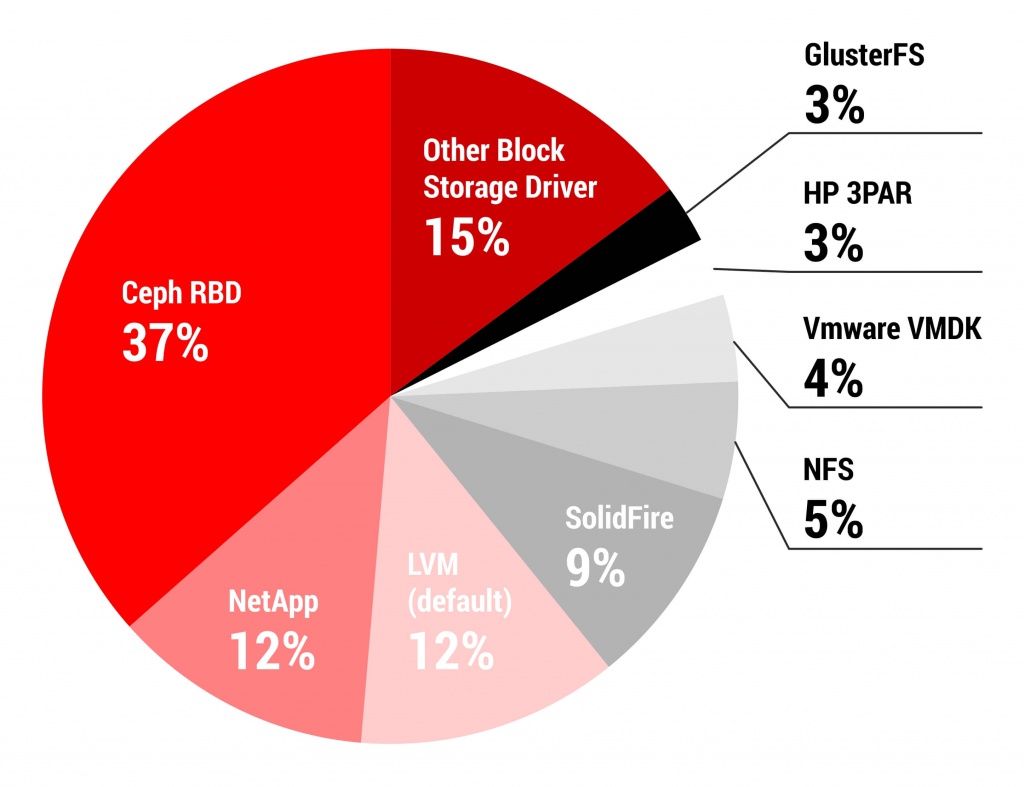 Find out more on the TAdviser website
Contact us
Contact Press Service
Phone +7 (499) 239-92-69
Stay informed
Subscribe to our newsletter and keep up with our latest news
Contact us
Leave information about yourself and your company to get a detailed presentation.